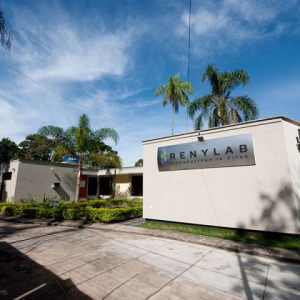 Pharmacist Renê Vaz de Mello developed URETEST®, the first liquid diagnostic test for urease to detect Helicobacter pylori bacteria in gastric mucosa to be introduced and marketed in Brazil.
Today the company has a line of almost 100 items including dyes and reagents for clinical analysis, endoscopy and gastroenterology products, ultrasound gels, ready-to-use culture media in tubes and plates, glucose and lactose tolerance test, sanitizers, among others.
Our focus is on the improvement and innovation of our activities, in the field of performance and quality of our products and in the attraction and satisfaction of our customers.
The commitment and care we have with the quality of the products can be evidenced by our certification on Good Manufacturing Practices (BPM/GMP) of ANVISA.
Logistics
Renylab, besides the great care with its products manufacturing, also has a strict storage control of its produced items. The use of controlled temperature and warehouses built in accordance with ANVISA standards guarantee storage and adequate conditions for transportation and distribution.
Certifications
Renylab is certified by ANVISA's Good Manufacturing Practices and ISO 13485 quality certificate, proving its commitment to the quality of its products and continuous improvement.
Quality warranty
The Quality sector's mission is to promote the continuous improvement of the company, products and employees through routine activities that aim to guarantee and control the high quality of Renylab products and subsequently guarantee customers satisfaction, which is fundamental for our company.
Quality control
The Quality sector employs trained and qualified professionals who are responsible for all products and culture media analysis before release for comercial use in order to ensure its efficiency and compliance with the legislation in force.
Mission
RenyLab has the mission to develop, manufacture and commercialize products to the ​​health and diagnosis area, with adequate technology and superior quality, aiming to achieve customers satisfaction, contributing to regional development, respecting individuals, society and the environment.
Vision
To be recognized as a reference in its operating segments for the quality of its products and commitment to its customers and employees.
Values
Ethics
Quality
Respect
Justice
Quality policy
"Renylab is committed to providing high quality products that meet or exceed customers' expectations. Renylab works to maintain compliance with ISO 13485/2016 and RDC 16/2014 standards and other applicable regulatory requirements, focusing on continuous improvement as well as continuous monitoring and measurement of our key processes in order to ensure the effectiveness of our Quality Management System."